Alexandria Fairfax County is located right outside of the Beltway in the southeastern part of the Fairfax County region wherein you could find all types of properties such as condos, townhouses, and single-family homes with prices ranging from low three hundred-thousands to multiple millions of dollars.
We want to show you what you get for your money. Today we'll share what type of home you can expect to purchase in Alexandria Fairfax County with a $600,000 budget.
Huntington 

Facts About Huntington
The neighborhood lies just south of Old Town

Old Town Alexandria and Huntington are separated by the Beltway, which forms Huntington's northern border.

The area is bounded to the west by Kings Highway and to the southeast by Richmond Highway, and the southern edge rubs up along the Jefferson Manor neighborhood.

Walking distance to Huntington metro station

The end of the Yellow line

Huntington is really known for are the two-story brick duplexes lining the streets off of Huntington Avenue that was built in the 1940s

Mostly 2 to 3 bedrooms

They're in a wide variety of conditions

some have all the original features, which means pine or oak floors but also small galley kitchens

some are fully or partly covered in vinyl siding

Others are in great shape with well-maintained yards and kitchens that have been opened and completely transformed

Community of semi-detached duplexes means they're all end units

both units of each duplex have front yards, back yards, and side yards, sometimes with enough space for a garden or a large shed

.
Commute From Huntington
the neighborhood lies between two exits on the Beltway and isn't far from I-395
10 miles to DC
17 miles to Tysons
12 miles to Ft Belvoir
8 miles to the Pentagon
Things to Do 
There are a few strip malls with basic takeout restaurants

Close to busy Richmond Hwy (shopping centers with things like doctor offices, salons, and dry cleaners.)

About 10 minutes by car or metro to Old Town Alexandria

South of Huntington Avenue is a small community center as well as Huntington Park, a large grassy space with a baseball field
Click here to find out more information about Huntington.
Hollin Hall Village 

Bordered by Fort Hunt Road to the east, Paul Spring Parkway to the north, Fairfax Road to the south, and Karl Road to the west, Hollin Hall Village is a charming tree-lined neighborhood that prides itself on being a "pleasant little community."
People who live in this wonderful community can't say enough positive things about it; the friendliness of the neighborhood along with the multi-generational makeup of the community. 
Hollin Hall is a vibrant, close-knit community with long roots in South Alexandria. So close to all, but peaceful, quiet, and offering a wonderful quality of life for its residents.
Commute From Hollin Hall Village
5 miles from the Beltway
10 miles from Washington DC
10 miles from Ft Belvoir
21 miles from Tysons
Facts about Hollin Hall Village
Hollin Hall is home to almost 700 homes

Many offer one level of living

Most homes were built post-World War II in the late 1940s, making it one of Fairfax County's oldest neighborhoods.

1940s era red brick single-family homes.

Home styles are primarily one-level ramblers, with some Cape Cods and split levels.

There has been a surge in new construction within the neighborhood in recent years.

Cost

You can find smaller two-bedroom ramblers starting in the mid 400s

Many 3 bedroom one levels in today's price point under $600,000. 

Some go all the way up to $1.3 million for some of those new constructions
The influx of newer homes from tear-downs has since spread throughout Hollin Hall Village and throughout the Fort Hunt Community at large. These new homes have changed the feel and look of the neighborhood as the original homes are older, the land is scarce, and there are always builders and homeowners who are interested in building newer homes. 
Shopping
2

shopping centers located on Fort Hunt Road are split down the middle by Shenandoah Road

There is a grocery store (Safeway), a drug store (Walgreens)

The shops are a gift to the entire 22308 zip code and the greater Fort Hunt Community
Recreation
You can run, walk or ride your bike to the George Washington Bike Path (Mount Vernon Trail), a short distance away. 

There are beautiful streams and green spaces along Paul Spring Parkway (Paul Springs Stream Valley Park) and Kirk Park.

There is also a baseball field which is the home field to many neighborhood children.

There is a wonderful walkable community pool with a pond for fishing and tennis courts called Mount Vernon Park Association.

 It is home to many annual events like "Crab Fest," campouts, pig roasts, and more. 

Senior center
Click here to find out more information about Hollin Hall Village.
Virginia Hills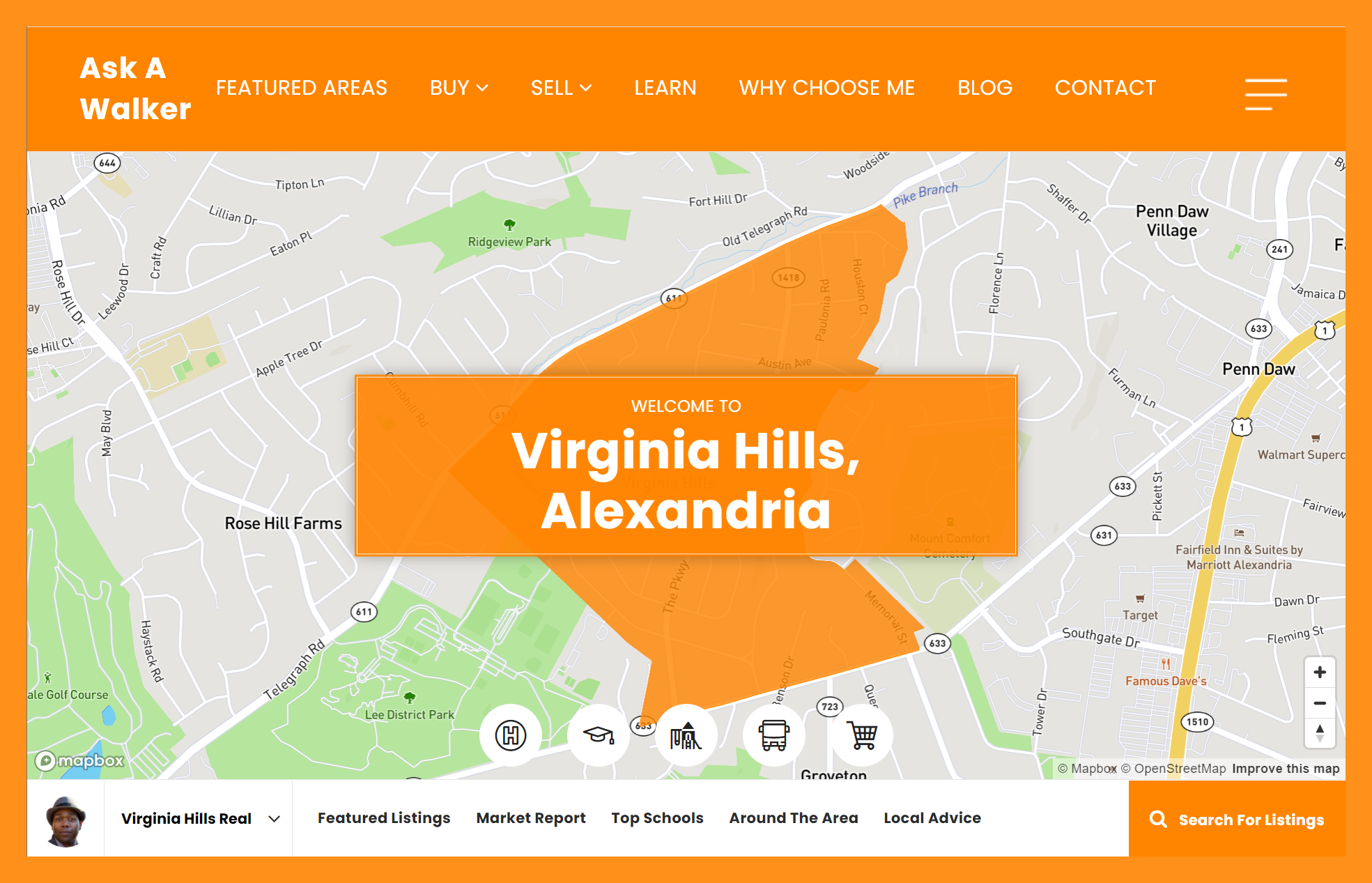 Real Estate Facts About Virginia Hills
located in the eastern portion of Fairfax County, Virginia.  

roughly bounded by the community of Wilton Woods, Telegraph Road, Lee District Park, and South Kings Highway.  

Virginia Hills is about two miles from the Telegraph Road South exit of the Washington Beltway I-95/495

about three miles from the Route 1 South exit.

Virginia Hills, a community of about 750 single-family homes

Anywhere from 1000 to 2500 sq/ft
 Shopping
numerous shopping and dining opportunities in the Route 1 corridor, in Kingstowne, and in Old Town Alexandria

Not far from the Beacon Mall with Lowes, Giant Supermarket, and a Starbucks
Recreation
Virginia Hills has a neighborhood playground

Lee District Park, one of the county's largest recreation centers, borders Virginia Hills and boasts a 50-meter pool and racquetball courts. 

Mount Vernon Recreation Center is about a 10-minute drive away and has a large ice skating rink where the Washington Capitals often practice.  

Nearby Huntley Meadows Park is a natural wetlands park with wonderful opportunities for wildlife observation.  

The Virginia Hills Swim Club offers private membership
Click here to find out more information about Virginia Hills.
Kingstowne

Interesting Facts About Kingstowne
Southern Alexandria

Outside the beltway

North Village close to Van Dorn metro station

Southern and Middle Village closer to Franconia Springfield metro

At $600,000 you'll be looking exclusively at townhouses.

Mostly constructed between the mid-90s to early 2000s

At this price point, you can expect to find three-level townhouses with a single car garage or no garage and two assigned parking spaces
Commute From Kingstowne
16 miles to DC
12 to the Pentagon
15 miles to Tysons
2.5 miles to the nearest gate at Ft Belvoir
Shopping
Kingstowne Town Center (big box stores like Walmart)

Saturday morning favorites TJ Maxx, Home Goods, World Market, Ross for Less

Fast-casual dining, Panera, Noodle and Co, Firehouse Subs, Chilis, Chick Fil A coming soon
Recreation
Robust HOA with tons of amenities

Pools

Tennis courts

Walking paths

Tot lots

Not far from Springfield Mall
Click here to find out more information about Kingstowne Virginia.