Let's start this off with my favorite talking point:
Someone paid $717,000 over the asking price for a $2.7 million home in Arlington.
While some of you will say, "well, Abraham, that's a home over 2 million dollars and not a normal transaction".
Second place goes to a buyer in Oakton who paid $460,829 over the asking price or 36% over the listing price for a home listed at a $1.28 million single-family home.
What's the most unreal number someone paid for a townhouse?
That award goes to a lucky buyer who scored a townhouse in The Sanctuary (located in Arlington) for $205,000 over the listing price.
It's safe to say that March numbers are insane. We're comparing March 2021 to March 2022.
Units sold dropped by 5% YOY, while average sales price increased by 11% during that same time period. Homes are selling 3.5 days faster than last year, and units sold over the asking price increased by 11%. 67% of the 2,780 homes sold we sold above the asking price representing a 9 point increase from last year.
I hope you're sitting down for this one.
Buyers have increased how much they pay for homes in bidding wars by 48% over last year.
So what's the magic number to win a home with multiple offers?
The data says $45,000 over the asking price was the average amount paid for homes in competitive offer scenarios.
When you break down the numbers by property types, you realize that condo sales skew the numbers.
73% of single-family homes and 78% of townhomes were sold over the asking price, while only 46% of the condos reached a bidding war.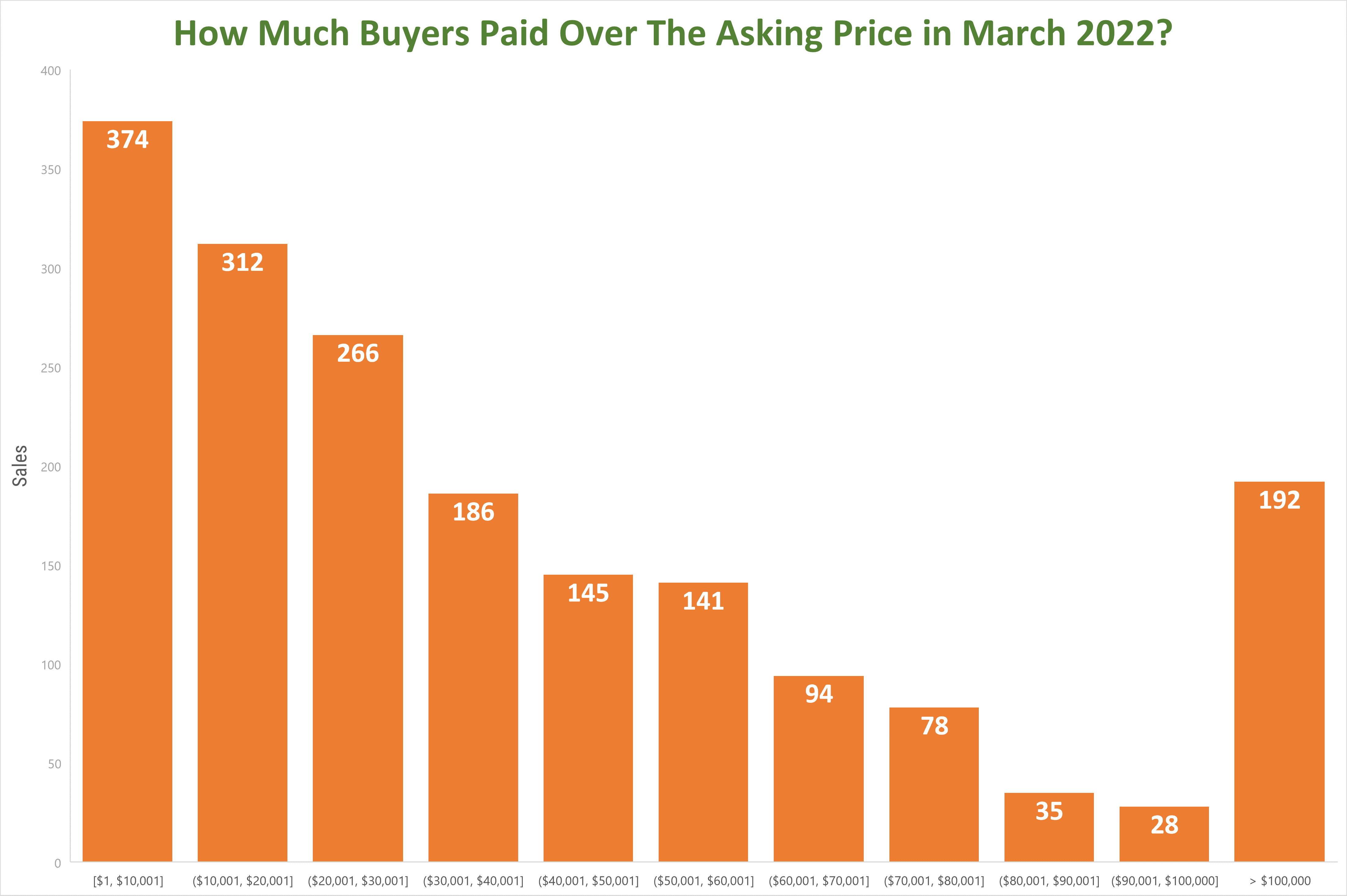 What's the most competitive county in Northern Virginia?
Of the 727 sales in March, 76% of the homes in Prince William County sold over the asking price, which is 10 points higher than the second most competitive county, Fairfax County.
Here's something I've never seen in all my years tracking the numbers in Northern Virginia. Fairfax County's average sales price surpassed Arlington County by $10,000.
$787,108 – Arlington County
$797,584 – Fairfax County
Buyers treat the two counties like the same place because we also see similarities in the average price buyers pay over the asking price.
$53,791 – Arlington County
$53,940 – Fairfax County
I think that's enough numbers for one post.
To show your appreciation for this content, let me know one thing that surprised you about this data in the comment section.
Until next month…
Onward,
AW