Hello and welcome to the Ultimate Guide to PCS'ing to Fort Belvoir. There are three reasons why people visit this page:
You were referred to by one of our happy past clients who found this page helpful when they PCS'd to Fort Belvoir.
You recently received your orders and you're starting the research phase of the process.
You're one of our competitors looking for information to use on your website.
Whatever your reason is you stopping by, we hope that you enjoy the page and find everything you need to know about PCS'ing to Fort Belvoir.
Before we get started, I'd like to thank my wife and business partner, Krystal Walker, for assisting me with conducting the research for this project. This page wouldn't exist without her help.
In this guide, I will answer most, if not all, of your top questions like:
Where exactly is Fort Belvoir?
How bad is the traffic near Fort Belvoir?
How much does it cost to live near Fort Belvoir?
What type of home can I buy or rent around Fort Belvoir?
What's the process to buying a home before or after you PCS to Fort Belvoir.
Hi, this is Abraham Walker with Ask A Walker, your Northern Virginia Real Estate agent. I will be your tour guide on this page.
No matter when you decide to buy, my team and I are here to guide you every step of the way. To get started, fill out the Perfect Home Questionnaire at https://askaw.us/m/link-in-bio, and we'll schedule a virtual consultation via Zoom. During this session, I'll walk you through the home-buying process and answer any questions you may have.
Now, let's jump into the content.
Introduction
Fort Belvoir is a United States Army Installation that sits on over 8,500 acres in the southwestern part of the DC Metro Area with 51,000+ employees, more than twice as The Pentagon (24,000).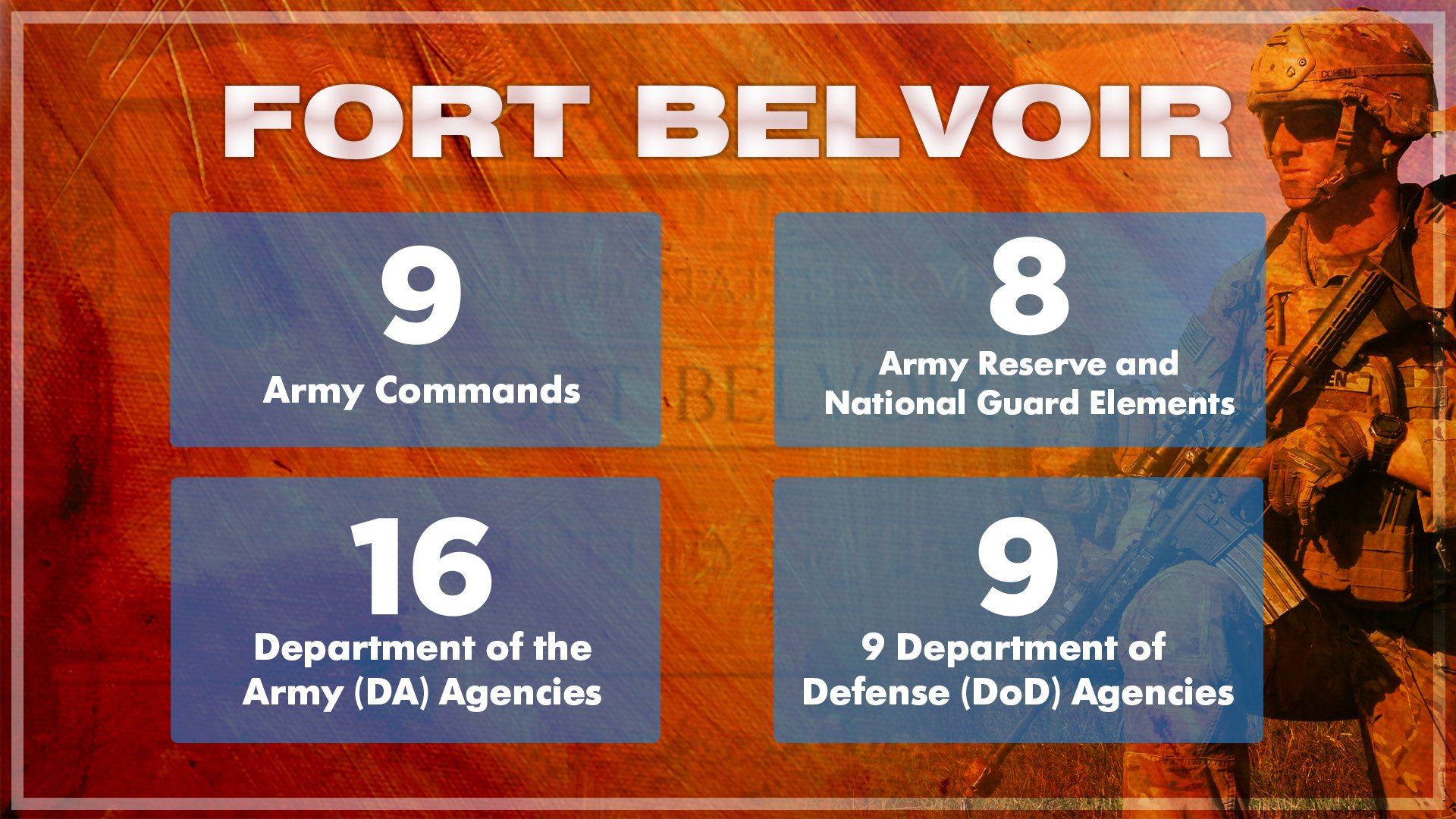 It is home to:
9 different Army commands
16 different DA agencies
8 Army Reserve and National Guard elements
and 9 DoD agencies.
Fort Belvoir houses:
a Navy construction battalion,
a Marine Core detachment,
an Air Force unit
and an agency of the Department of Treasury.
Location
Fort Belvoir is located in the Washington DC Metro area, also known as "The DMV".
The DMV is an acronym for
D- Washington DC
M – Maryland
V – Virginia.
Fort Belvoir is in Northern Virginia on the western side of the DMV area.
To give you some idea of the proximity of the location, it's 22 miles southwest of the White House, the Pentagon is 19 miles to the north, and Quantico is 24 miles to the south.
There are 3 distinct areas that make up the Fort Belvoir base:
Main base
Davison Army Airfield
And, Ft Belvoir North.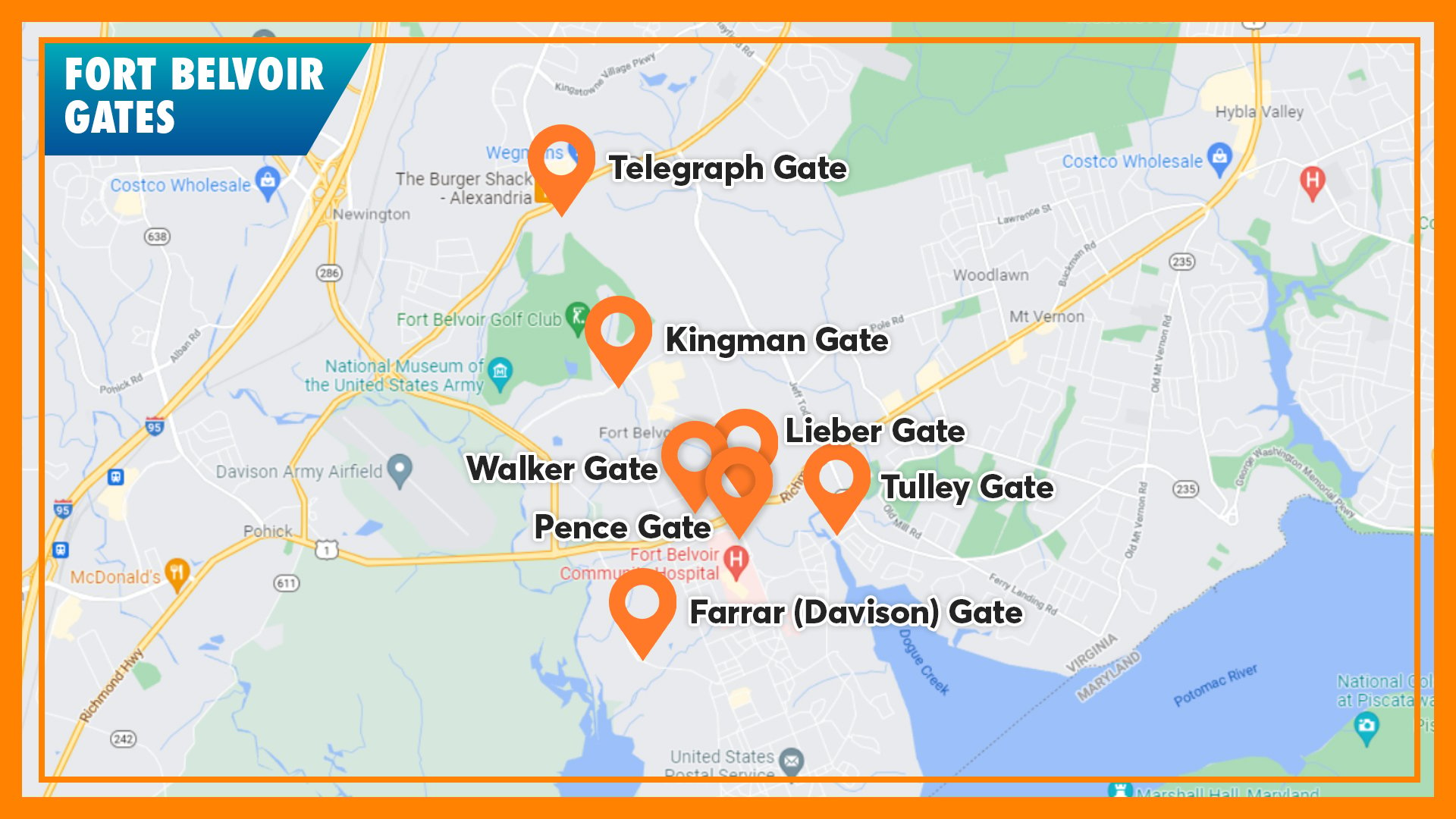 You can access the base through one of five gates:
Kingman
Pence
Walker
Tully's
Telegraph
Frequently Asked Questions about Fort Belvoir Gates
What Fort Belvoir Gates are open every day?

Kingman and Pence are the only gates open every day.

What Fort Belvoir Gates have limited access hours?

Walker and Telegraph are open Monday through Friday with limited hours.

What Fort Belvoir Gate should you avoid if you can?

Avoid the Tulley Gate because it's the one non-DoD ID cardholders use.
Traffic
Traffic in Northern Virginia and the DC Metro area as a whole can be pretty crazy.
Fort Belvoir is located by what locals call "The Mixing Bowl". It's the point in the interstate where the big 3 highway systems connect. 395, 495, and 95.
While this makes getting on the interstate convenient, it also means that Fort Belvoir is exposed to more traffic than other locations in the region.
In fact, an Urban Area Report says the average resident spends about 102 hours a year in traffic.
YIKES!!!
Traffic can get pretty hectic during both morning and evening rush hour.
Especially on the stretch of I-95 and Route 1 that border Fort Belvoir.
Between traffic jams and near-constant construction, folks are always trying to find a way to shorten their commute.
Since the advent of cell phones with navigation, there's no shortcut around traffic. The easiest way to manage it is by living as close as possible to the base.
Living in Northern Virginia
Northern Virginia has one of the highest costs of living in the country because of its proximity to the nation's capital, Washington, DC.
For that reason, the BAH is considerably higher than many other posts.
The BAH in 2020 for an E-6 w/ dependents is $2556/ mo and $2301 without.
For an O-4 with dependents receives $3027 and $2673 without dependents.
The VA entitlement for Northern Virginia is also considerably higher at $765,000.
How big is Northern Virginia?
Northern Virginia is HUGE! It includes the counties of Fairfax, Arlington, Loudoun, Prince Williams, and Stafford County.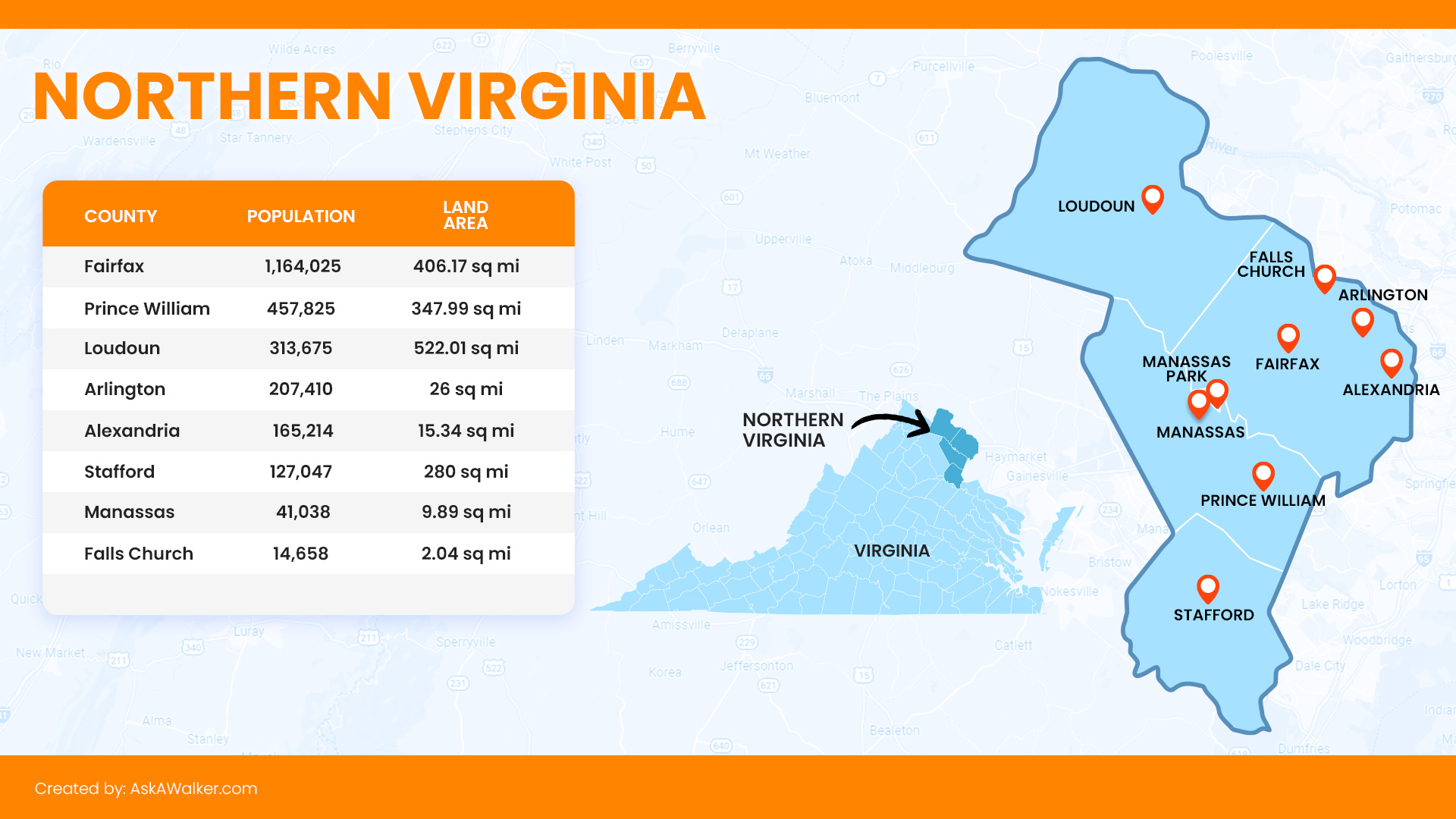 As well as, the independent cities of Alexandria, Falls Church, Fairfax, Manassas, and Manassas Park.
It covers over 1300 square miles and has more than 3.1 million residents.
Being at Ft Belvoir, you have several different options when it comes to where you want to live.
Prices vary considerably depending on which area you decide on, but you can find a rental or home to buy fitting every BAH.
One way to reduce your commute is to find housing near your duty station.
Fairfax County is home to some of the top-rated schools in the country, which makes it particularly popular.
If you are unfamiliar with the area, you may be surprised by the number of townhouse units in Northern Virginia.
Land is at a premium, and depending on your budget and desired commute, you may find that within your budget, a townhouse is the best option.
The closest housing options near Ft Belvoir are going to be Kingstowne, Alexandria, and Lorton.
You can expect to pay anywhere from $475,000 to $575,000 for a 3 bedroom, 2.5 bath townhouse with a single car garage in these three areas.
To rent a similar-sized home, you're looking at between $2400-2700/mo.
Lorton
Lorton is in the southernmost part of Fairfax County.
There you'll find older single-family homes and lots of newer townhouses and large SFHs.
The prices are a little less than in other parts of Fairfax County.
The lower prices are mostly due to its distance from the District.
You can expect the shortest commute coming from Lorton, taking anywhere from 12-25 minutes.
Kingstowne
Kingstowne is the second-largest subdivision in Fairfax County and is very popular among military families.
Although it is a suburban area, it has lots of shopping and entertainment options in and around the community.
The commute from Kingstowne could take anywhere from 15-25 minutes.
Springfield and Burke
Head northwest to Springfield or Burke and that same budget of $575,000 can get you an older single-family home.
These areas offer more green space but fewer public transportation options.
You'll also have to travel a little farther to get to things like supermarkets and shops.
I'd allow between 25-40 minutes for the commute, depending on the time of day.
Woodbridge
Head further south to Woodbridge, in Prince William County, and you can get a large single-family home on a quarter-acre lot for between $475,000 and $550,000.
Mind you, the further south you go, the more time you'll spend on the road.
Buying a Home Before or After PCS'ing to Fort Belvoir
When considering whether to buy either before you PCS or after you report to Fort Belvoir, there are a couple of options available.
Before our clients make their first buying trip to the area, we conduct a Buyer's Consultation via video conference call with the major decision makers. The consultation lasts 60 to 90 minutes and gives us a sense of what you want before arriving for your buying trip.
By taking this proactive approach, you save time by focusing your energy and time looking at homes and neighborhoods that  meet your criteria.
We recommend planning a house-hunting tour 45-60 days before your report date. This gives you enough time to find something you like, review and negotiate your contract and get back to your original station to prepare for your move.
Once you're able to find a home that fits your criteria, working as your real estate agent, we can handle the inspections for you virtually.
Plus, everything else with your home purchase, including settlement, can be handled remotely.
If you aren't able to find a house during your visit, your REALTOR will continue searching for homes that match your criteria.
One tool we use for our buyer clients is a virtual walking tour, which allows you to get a feel of the property without being present.
Use the following link to learn our system for showing Military Homebuyers properties while they are out of the area, whether they are in another part of the country or overseas.
Navigating the Virtual Home-Buying Process in Northern Virginia for First-Time Buyers
The main benefit of buying a home before you PCS is that when you report, you can move directly into your new home.
Buy after you PCS to Fort Belvoir
Your other option is to find a home after you report.
You can move into (TLF) Temporary Lodging Facility on base at Ft Belvoir then find a home after they have more time to search.
One benefit of this option is that you allow yourself to get acclimated to the Northern Virginia area and figure out where you want to live.
The downside is moving two times in a relatively short period.
In Closing
If you want to know more about the area and the local market, check out my other videos.
If you're planning to buy or rent a home when you PCS to Fort Belvoir, I'd be happy to help you.
I can also help if you are heading to the Pentagon, Quantico, Andrews, or the Joint Base Anacostia-Bolling in DC.
If you have questions, want to chat, or schedule a Buyer Consultation, I can be reached at 703-539-2053 and [email protected].
Thanks for making to the end of the Guide.
We're always looking for feedback. If you think of anything that could be improved in this guide, please let me know by sending an email to [email protected].
Onward,
AW